Every day thousands of Christians are converting to other religions, and heading on the path of destruction. The Lord has given us a vision to evangelize to the people of America and other part of the world. As part of this mission, we are writing the clear Gospel message on the public benches at various bus stops at the different parts of United States as seeds to spread the Gospel. These benches are located at the public bus stops and the busy intersections.
"Write the vision: make it plain on tablets, so he may run who reads it". Habakkuk 2:2.
By the grace of God the Bench Evangelism was started on November 1, 2013. With your prayers and support, we were able to continue this ministry for the last one year. At present we have taken 13 benches in the prime locations in the three states of United States (California, Texas, Florida), and two message boards in front of two houses. Our desire is to take atleast one bench in each state of United states within short period. We are requesting your prayer and financial support to carry on this ministry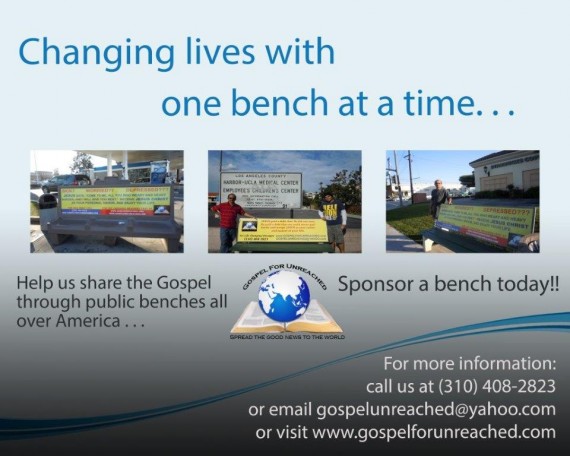 Gospel For Unreached Bench Ministry program helps point America to Christ by posting clear Gospel messages alongwith major intersections. It is estimated that more than 100,000 people drive past our 12 messages each day.Many people across America are confused about God and life. They don't know what to believe or where to find help. Churches throughout our nation are rejecting the absolute authority of the Bible, and some Bible colleges teach students they can believe in evolution AND God. No wonder so many are confused. Where can these people turn for Biblical answers? Each bench includes a telephone number, which people can call to speak with one of our phone team members.
Thanks for your prayer and support. May God Bless you.
HOW CAN YOU HELP?
Please support us with your prayers so that thousands of people can be saved and are blessed. We also need your help to carry on this mission with financial support. All these benches are rented out for one-year contract, and will be renewing every year if God allows. You can be a part of this ministry by sponsoring a bench or sending any contribution as the Holy Spirit leads you.
Thank you and God Bless.